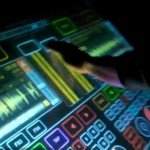 Ever since the movie Minority Report hit our screens we've all been fascinated by the promise of touch screen technology. I think touch tech is going to be big this year, which is one reason why I'm currently working with a young entrepreneur on an interesting project involving tablets. More about that soon. In the meantime, there are other companies in New Zealand that are already well advanced in this field.
North Shore manufacturer Kevin Andreassend grew up dreaming about futuristic multi-media too and he now runs a company called ICE AV that assembles and re-exports tailor made big screen and audio set-ups around the world. The company recently had the opportunity to work a high profile stage equipment provider in London, delivering large screens for a massive DJ gig in the city. The same company also works with other huge touring acts such as U2.
But it will probably be much smaller screens that drive the mainstream adoption of this technology in 2011. Most smart-phones and tablets now have touch screen tech. In fact much of the new technology now driving workplace and personal productivity tools ironically had its origins in the home amongst an earlier generation of electronic games platforms. This will inevitably lead to greater interest amongst the general public in future applications. ICE AV have capitalised on this interest by creating a clever system called Holodesk that integrates a fully interactive touch screen system with a DJ turntable set-up. This creates a new kind of experience for part-goers and has (literally) been receiving "rave" reviews in Europe and the UK.
More Kiwi tech going global – Got an interesting software product or app that you'd like me to review? If it's made in New Zealand and a little bit left field, please drop me a note.