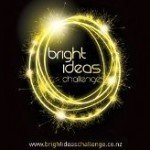 "It was a dark and stormy night". That's how my Grandad used to begin his bedtime stories when I was a little lad. He was both a technology innovator and an entrepreneur, so hopefully some of it rubbed off on me. There's certainly a lot to be said in favour of story-telling and narrative as a means of passing on knowledge.
Tuesday this week the Bright Ideas Challenge team from Grow Wellington are putting on Entrepreneur Storytime, an evening of anecdotes and stories from a diverse and successful group of local entrepreneurs. Speakers include Mark Clare – investment banker and web entrepreneur, Rachel Taulelei – founder of City Market and chairperson Wellington On A Plate, also Geoff Todd – CEO of both Trinity Bioactives and Viclink and CreativeHQ chairperson. Other speakers include Trent Mankelow who is a highly successful graduate of the CreativeHQ business incubator and Derelee Potroz-Smith, a finalist from last year's Bright Ideas Challenge.
I'm particularly interested to hear Geoff's story since he is a man with a foot in the camps of both academia and business, a rare and important breed of individual that New Zealand urgently needs at present. But it looks like an inspirational lineup overall and everybody is welcome to attend this free event. Registration essential.