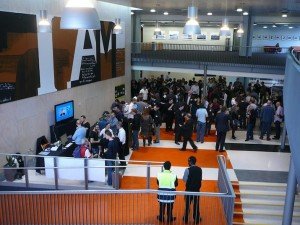 Last year I attended the final pitching session at Get Funded 36, a compressed accelerator course for budding entrepreneurs from within the academic community. Callaghan have produced a blog article explaining how it all worked, nicely showcasing PhD student Brendan Darby and his spectroscopy solution for testing turbid fluids. During the one and a half day event, the participants were walked through the fundamentals of lean startup methodology and coached on how to develop a short pitch to promote their proposal with investors and funding agencies.
I have been involved in promoting this kind of innovation networking through startup community events for some years now, including developing Unlimited Potential Wellington to the World (see photo above) a tech and research innovation showcase and helping to run a special Startup Weekend for researchers last year. The results were mixed, but Get Funded 36 went on to tailor the model a little more and I hope there will be other similar events in future. There's certainly a strong case for developing more short course formats for giving researchers and academics a taste for entrepreneurship and for exposing the business community to new ideas.
Technology research forms the basis of most high value ventures, but New Zealand has traditionally been a poor performer in commercialising academic research. Part of the problem has been an obsession with "publishing" research, instead of turning it into a business. Our university commercialisation offices have had some successes at licensing intellectual property, but less success at seeding high growth ventures in which most of the economic value has been retained locally. Those mindsets need to change if we are to earn our keep as a nation in future.
There are other initiatives in the New Zealand research and academic community such as Velocity (formerly Spark) and KiwiNet that have gained some traction over recent years and which welcome engagement with the broader innovation and business community. We need more of this! I firmly believe researchers need to get downtown and mingle with entrepreneurs and investors more often. As a friend of mine is often fond of saying, "when good ideas have sex, great things can be achieved".
Paul Spence is a commentator, technology entrepreneur, a co-founder of iwantmyname (a New Zealand based global Internet venture) and an organiser and mentor with Startup Weekends in New Zealand. You can follow him on Twitter @GeniusNet or sign up for a free weekly digest of startup, tech and innovation related events curated by Paul through New Zealand Startup Digest.