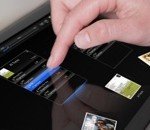 Unlimited Realities is living up to its name. Last year the company inked a deal to provide its gestural interface software for integration into Dell manufactured computers. Now the door has been opened by computer chip maker AMD. Fingertapps was showcased this week at the AMD Fusion Developer Summit in Seattle ahead of its rollout with AMD's next generation of chips for Windows based PC and tablet devices.
The company, which has development offices in Wellington and Palmerston North recently appointed former Kiwibank CEO Sam Knowles as chairperson. It now seems to be on a rapid growth trajectory, having been one of the earliest providers of computer touch screen technology. We saw the "unlimited potential" of the product back in 2008 when we invited Unlimited Realities business development manager Ben Wilde to show off Fingertapps at Wellington to the World.
New Zealand companies are becoming increasingly adept at forging relationships offshore and the U.S. computing market is generally the most obvious first port of call. Fingertapps is yet another great example of high flying Kiwi technology going global from New Zealand.