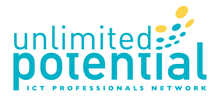 I'm currently project managing Unlimited Potential's Wellington to the World Event (W2W) to be held on Friday 7th November. There are so many really neat tech firms that are just bubbling below the surface that we thought we would create a great event around launching a few of them onto the world stage. If you are a technology firm based in the Greater Wellington Region and focused on growing through engaging with global markets, you need to be at W2W. With the support of its sponsors such as 920, Grow Wellington and Gen-i, Unlimited Potential are hoping to make this important event an annual fixture.
W2W involves live networking with angel investors plus business pitches from local technology companies that will be video-cast to a global web audience of innovators, entrepreneurs, mentors and investors with the assistance of KEA the Kiwi Ex-Pats association. KEA now has over 27,000 members globally, many of whom are in business and want to help New Zealand businesses go global. There will also be some presentations of cutting edge ICT research from Victoria University that has commercialisation potential. The Wellington City Council, Wellington Convention Centre and VicLink are to be applauded for getting behind the initiative.
We are looking for new faces! Emerging technology companies wishing to raise their profile, can articulate their message well and which have the capacity to scale up and go global – now is the time to step forward.
Contact me directly, if you are an emerging technology venture with a great story to tell.