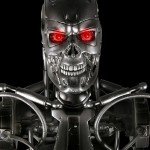 With the squashing of the R&D tax credit, the biffing of BIF and the annihilation of the Digital Development Council one could be forgiven for thinking the incoming government is auditioning for a role in the forthcoming Terminator movie. Of even more concern is a blatant lack of understanding about where the Internet is taking us, as witnessed by their trashing of the Digital Forum.
Don't they get that distributed problem-solving by communities and networks is the way forward now? When the Minister states that the government will now consult individually with the parties concerned, what he really means is that he will open the door to the best corporate lobbyists around town. Joe public, small business and the creative sector won't get a look see. The Digital Forum wasn't perfect, but at least it gave voice to a wide range of users and producers of digital innovation and creative content.
The axing of the government shared network represents yet another another milestone in the government's ideological war being waged on every last programme or initiative that had Labour's brand on it. This leads one to the disturbing conclusion that the KAREN research network might be the next target on the chopping block. Established as a Crown entity, the network was supposed to turn a profit whilst delivering high bandwidth capability to the already under-funded research agencies and universities. But poor demand modelling and underinvestment in marketing new services left the network underutilised.
Given the already woeful levels of research, science and technology investment by government, it would be a disaster to let KAREN go. In fact the government should be fully funding its owner REANNZ as a matter of course, as part of a wider commitment to building up RS&T capability. The potential in terms of research and science outcomes from a properly wired and (socially) networked science and technology community has yet to be fully tapped.