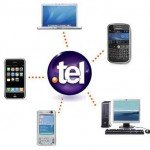 The vexatious issue of online identity becomes steadily more and more intractable with the staggering growth in the number of Internet and mobile users and the proliferation of web-based communities and online applications. But the problem of online identity goes well beyond simply finding a ubiquitous login profile for all your favourite websites. 
Technology now controls and mediates the permeable boundary between communities and a growing number of services.  Dealing with the technology around online identity involves addressing important issues such as verifiability, security and reputation. In difficult economic times the expression of our online identity holds considerable value, because it may affect our ability to find a job or win a contract. Centralising the protection and management of online identity then seems like a logical step towards solving some of these issues, but it also brings with it some philosophical problems.
If you entrust your personal data to a single organisation how can you be sure that it is secure? Is it better to have a multiple identities and logins? If your favourite social networking site went bust tomorrow you may lose some data but at least all your other identities remain intact. Could access to personal data be abused if it was located in a centralised repository? Would it mean more or less spam and invasion of personal privacy? What happens to your data in perpetuity? The reality is that we are already struggling with these issues. If you own a telephone, get a welfare benefit or operate a motor vehicle – your personal information already resides on numerous databases around the place. Almost certainly some of that information is incorrect and you don't even know it. Recently I had to make two personal visits to my bank to make a simple address change happen!
Last week's launch of the new .TEL domain was a positive step towards allowing Internet users to regain control over their online data. The launch of .TEL received little coverage in New Zealand,  despite the tremendous opportunity it represents. The new domain was set up by Telnic, a respected global domain registry. Each .TEL domain comes with it's own free website that the owner can configure to display contact information. Here's how the ideegeo .TEL site looks for example. You can also add active links such as phone numbers, email addresses, related websites, blogs and personal social network pages.
Over time .TEL will grow to become the equivalent of  the world's virtual White Pages and no doubt a myriad of application offerings will spring from within it. It seems like the perfect way for small businesses to get listed on the web without the expense of developing and managing a full blown website. The domain owner has full control over the page content and level of access by other users (public or private). If there is any change of address or other contact details it is a simple matter to update the site. The .TEL sites are protected by high level encryption to keep spammers and cyber-criminals away.
The .TEL launch included a funny video that alludes to some light hearted social benefits from becoming a .TEL owner. We've been promoting the clip on our iWantMyName domain management site this week. Enjoy.