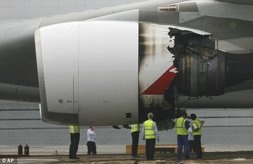 "Qantas Jet Explodes Over Indonesia" blared the headline on the New Zealand Herald website yesterday. Once again the media went into panic mode as it scrambled to keep pace with a flurry of reports that were popping up through social media sites. Indonesian sourced Twitter content describing an explosion and aircraft debris raining from the skies were interpreted incorrectly as an aircraft having exploded in the air. Does this sorry episode and the recent media debacle over The Hobbit suggest that traditional forms of media are more frequently substituting sensationalism in the place of research and accuracy, as they struggle desperately to compete with the immediacy of new forms of digital media? The last remaining vestiges of New Zealand journalistic credibility also exploded yesterday.
Traditional media seem ever willing to cater for the public's demand for reality based entertainment and hunger for death and destruction. What really happened in the sky yesterday was that an uncontained explosion in one of four engines of a Qantas A380 shortly after take-off from Singapore led to the aircraft entering the holding pattern and dumping fuel overhead Batam in preparation for landing. Some engine debris was recovered on the ground but due to the qualities of the Airbus aircraft, there was no loss of structural integrity and the crew followed correct procedures, returning to land safely.  A properly researched headline should have read "Flight Crew Performs Textbook Emergency Landing – 450 Safe".
Wellington media maven, blogger and Fairfax journalist Greer McDonald will be speaking at Social Media Club on Monday evening about how traditional media treat information received via social media channels. This is sure to be an interesting and lively discussion given recent events and the fact that Greer has a foot firmly in both camps.