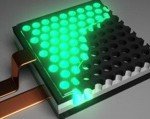 Plastic Logic, a company founded to commercialise research from Cambridge University recently secured one of the largest venture capital funding rounds of any company globally. But it has not always been plain sailing for the business which aims to devise and manufacture consumer applications for plastic semi-conductors based on organic polymers.
The US $700 million investment was led by Russian interests who plan to establish a production facility on the outskirts of Moscow. The funding was a lifesaver for Plastic Logic which almost tanked in 2010 due to production delays and intense competition from Apple's highly successful iPad. Like many technology companies, there will continue to be challenges; but the upside is enormous considering the possible applications of its polymer research such as ultra-thin screens.
Ironically, although research and development was performed in Cambridge, the company initially moved quickly to establish a facility in Germany, in order to capitalise on Euro zone incentives that were unavailable to it in Britain. It makes for an excellent case study into why blue skies science research should receive substantial public funding and why regionally targeted economic development aid should not.
The foundational research behind the company has a New Zealand connection. The research team is directed by Sir Richard Friend a British physicist who currently occupies the Cavendish Professorship in Physics at Cambridge. New Zealander and Nobel laureate Ernest Rutherford occupied the same position from 1919 to 1937. Professor Friend visited on a speaking tour recently at the invitation of the Royal Society of New Zealand and the MacDiarmid Institute for Advanced Materials and Nanotechnology.