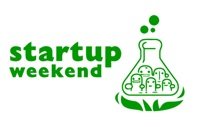 Startup Weekend is a life-changing creative workshop for web entrepreneurs that has been held all over the world from Boston to Bangalore. Participants have 54 hours from 6pm on the Friday evening to strategise, build and launch a brand new web business. It's a pressure cooker event that ensures everyone leaves with new ideas, brilliant personal networks and maybe even a new business. The great news is that the very first New Zealand Startup Weekend will be held in Auckland on 1st-3rd of April.
About a year ago, Startup Weekend global director Marc Nager approached me about bringing the event to New Zealand. But anticipating a very full year at Unlimited Potential plus lots of hard work growing iWantMyName, regrettably I had to decline. So I'm really pleased that Jason Armishaw and his team have stepped forward and I'm chuffed to be invited along as an advisor to the initiative. I'm looking forward to rolling up my sleeves and getting stuck in with some brain-storming on the day. It's an opportunity for me to share some of the lessons learned within a high growth web start-up business and no doubt to learn heaps myself from a bunch of much smarter people.
With the event only a few weeks away, we need to muster resources and get folks signed up pronto! Developers, designers, business strategists, marketers, investors. Get your dream team together or just rock up by yourself and be ready to contribute your particular skills. If you know of any companies that can help out with some resources please contact Jason as soon as possible. There will be media involvement, so it's a great opportunity to share what you do. See you there.