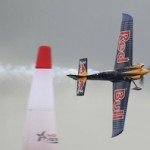 I've always enjoyed those Red Bull ads showing how that fizzy mineral drink gives you a lift. It's also interesting how Red Bull have successfully leveraged the aeronautical theme in their sponsorships of various high energy sports around the globe such as air racing and Formula One.
Red Bull started from very humble beginnings, but is now a globally recognised brand. It helps a lot that Red Bull tastes good; but building clear brand values is a really important task in any business, including start-ups. You don't need to own a Formula One team to build a great brand, but you do need a consistent message and a fantastic team that believes in the product and provides superior customer support. I hope that's what we are achieving with iwantmyname.
This weekend entrepreneurial developers and designers from all over New Zealand will converge on the sunny Bay of Plenty for Tauranga Startup Weekend. I've been an organiser, a mentor and a sponsor at these events at various times, but I've never actually played on a team. This weekend will be my first Startup Weekend where I will actually be pitching an idea.
We'd love to see a huge turn-out of developers and designers at this event from all over New Zealand. ideegeo Research Limited is the new venture development entity associated with the founders of iwantmyname. We work with young entrepreneurs and help them bootstrap interesting web-based projects that have the potential for global scalability. So here's the deal…
If you are a developer or designer from outside of the Bay and you sign up for Tauranga Startup Weekend this week – you will go in the draw to have your travel costs to the event co-funded by us. The draw is open to any developer or designer who signs up this week for Tauranga Startup Weekend. Offer closes 5pm, Wednesday 12th September.
All you need to do is contact us after you've signed up for Tauranga Startup Weekend, tell us a little bit about your skill set and we'll talk about how we can help in a practical way. Let us add wings to your Startup Weekend experience!