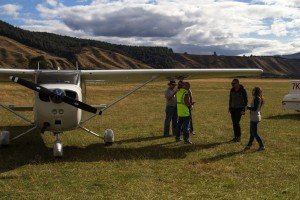 Being made redundant and then putting in the hard yards building a new online business put my lifelong love affair with aeroplanes on hold for a few years. But I'm very pleased to report that I'm finally back in the air again and loving it!
Aviation is something that gets into your blood, so it was hard to give it away. But sometimes life gets in the way and we have to refocus priorities for a period of time. It was sad to be grounded, because flying provided me with so much inspiration. Growing up with aviation has given me skills and knowledge that transferred over into to my business life such as practical approaches to leadership, planning and risk management. Being airborne also allows you freedoms and perspectives that many people never get to experience in their lifetimes.
So it was with a great sense of accomplishment that I recently flew some of the iwantmyname team to Lake Station aerodrome, near the township of Saint Arnaud on beautiful Lake Rotoiti in New Zealand's South Island (see photo). A lot of good memories came flooding back – along with my self-confidence. I recalled many adventures from my younger days when I was a part-time commercial pilot, building flight hours on days off from my "real" job as an aviation meteorologist.
Consequently I'm enjoying greatly, the rather ominously named, Worst Place To Be A Pilot TV series. But for a quirk of fate, I very nearly headed down the same career track myself. It's a steep learning curve for the young aviators introduced in the show, as they launch their flying careers in one of the most unforgiving environments on the planet. I've visited several of the featured locations in Indonesia and can totally relate to the situations illustrated.
That recent trip down south was the culmination of a lot of hard work and reminded me to confront challenges head on and never, ever give up on ambitions in life.
Paul Spence is a commentator, technology entrepreneur and is a co-founder of iwantmyname, a New Zealand based global Internet venture. You can follow him on Twitter @GeniusNet