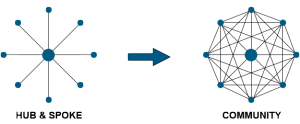 I really enjoyed attending Project16 this week. Offering a nice blend of business, philosophy and creativity, the event attracts an esoteric mix of thought leaders from the United States and bakes them with a sprinkling of local influencers, thinkers and doers. What I like about the event is that it challenges our thinking and helps build connectivity by creating a diverse set of connections. That's important for an island nation that lies a long way from global markets.
It was also a relief that most speakers generally avoided trotting out the usual slogans such as "number eight wire" and "punch above our weight". Self-congratulatory (but outdated) language such as this should be forever confined to the 20th Century. We also need to move away from parochial attitudes to economic development. It's no longer acceptable to be championing specific regions or cities as the centre of gravity. Wellington is no more the "centre" for film production than Auckland is the king of software. Yes, we do have regional strengths, but we can leverage these better by working together.
Economic development is not a zero sum game. But everyone can win through collaboration. Rather than trying to compete individually for capital and talent with mega-cities of Asia-Pacific such as Hong Kong, Sydney and Los Angeles, we need to be building relationships and making deals regionally that are more competitive. For example New Zealand tech startups are now accessing capital in Asia. The Sydney "fintech" scene is doing the same. We could set up more "sister city" relationships that have a meaningful economic basis, rather than a political or ceremonial objective. Deal-making should be driven by identified opportunity, rather than through meddling by governmental agencies.
For this reason, pundits who predict that extending Wellington airport will thrust the region onto the global stage are mistaken. Apart from the technical and economic reasons I already outlined that militate against this silly idea, we actually need to switch the thinking towards complex networks, where much greater value is created through diversity. That means it's also totally fine (and indeed desirable) for air transport links to hub through Auckland, Sydney, Adelaide or Melbourne.
Paul Spence is a commentator and serial technology entrepreneur, a co-founder of iwantmyname (a New Zealand based global Internet venture) and a mentor with Startup Weekends. You can follow Paul on Twitter @GeniusNet or sign up for a free weekly digest of startup, tech and innovation related events curated by him through New Zealand Startup Digest.