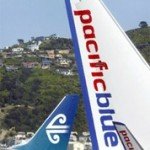 You have to give credit where it's due. Air New Zealand's spin doctors have had a delicious time making their engagement with Virgin Blue sound like a huge bonus for customers. Unfortunately the reality of the situation is somewhat different. Our national airline's lusty desire for consummating a union with Virgin may sound like a match made in heaven but it should not be allowed to get airborne without a proper pre-flight inspection.
The two airlines plan to merge and rationalise all their trans-Tasman operations in order to compete more effectively. With Qantas and its low cost offspring Jetstar making rapid inroads into market share and a host of other carriers dumping excess capacity in the region the blue team are taking a beating. It makes perfect economic sense for the airlines to work together, but there is no upside for passengers – especially those from Wellington, where ANZ and PBN already face little opposition. 
No matter what spin the airlines put on the alliance proposal, there are only two possible outcomes for consumers if it proceeds – fewer flights and higher prices between New Zealand and Australia. That is the sole objective because it is the only way the airlines can get revenue per seat to a sustainable level. The net result is that eventually one brand will cease to exist. Given that Air New Zealand is entrenched, it is likely to be Pacific Blue that dies. This will also reduce competition on the domestic scene. That would be a shame because both companies are highly innovative and have excellent customer service standards.
In any event New Zealand's domestic market has never been able to sustain more than two airline brands historically and somebody will blink eventually. Then the era of cheap airfares will be over, at least for a while. On the other hand Singapore's Tiger Airways is waiting in the wings – so to speak, although with its appalling customer service record it is questionable whether Tiger's arrival would be either beneficial or long-lived.
There are however two possible benefits of the proposed alliance to consider. Firstly, Air New Zealand gains access to Virgin's domestic feeder traffic and marketing machine. That would be a plus for the New Zealand tourism industry and a long awaited return to the Australian market since Air New Zealand's near death experience with its misjudged acquisition of Ansett back in 2000. Secondly, with more A320s on the way, Air New Zealand will have more capacity irrespective of its partnership status. There may be scope to launch some kind of new low cost option to address this section of the market and placate the regulators.
There is a certain inevitability about all of this, so it's important that any deal gets properly examined. Australia handles such proposals through the Australian Competition and Consumer Commission, but in New Zealand it will likely be a Cabinet level decision. Considering that the New Zealand government is the majority shareholder in one of the applicant companies, that would seem to be a slight conflict of interest. Hopefully a compromise can be hammered out that both ensures the viability of airline services and protects competition in the market.