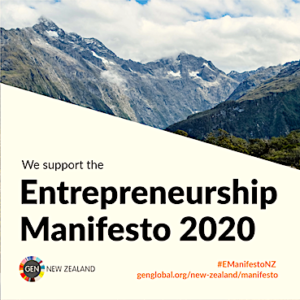 During the last few months a number of us from the entrepreneur enabler community have been working on a manifesto document aimed at making the case for a more coordinated and vastly better resourced entrepreneurial ecosystem. The initiative sprung from a weekly discussion session that began during the pandemic lock-down and was hosted by the Global Entrepreneurship Network in New Zealand.
As entrepreneurs we are accustomed to dealing with uncertainty and frequently making do with limited funding. But as the economic and health crises evolved, it has become clear that as a nation we will need to do a great deal more together to support entrepreneurship. This is more important than ever now because encouraging early stage new venture development will be fundamental to both the economic recovery and preserving our living environment. In fact we need to be embedding transition thinking into every economic policy decision.
Despite claims by officials to the contrary, government support for early stage entrepreneurship is negligible by comparison to our neighbours across the region. New Zealand is light years behind and it's time we had an honest conversation about it. Singapore and Australia have already injected hundreds of millions of dollars into developing their ecosystems over the last few years, with demonstrable success – particularly in software and deep tech. There are currently over 4,000 technology based startups operating in Singapore and there was around US $10 billion in venture investments made during 2019 alone. Australia's "deep tech" incubation program turns 20 years old this year and continues to churn out high tech success stories with publicly funded support through the universities.
But how do we make a case for scarce public funds at a time when there are so many other competing needs? The reality is that we cannot afford to delay any longer. Our innovation infrastructure has been left to languish for far too long thanks to gate-keeping and a lack of a compelling vision. This long-standing under-investment now looks like a threat given the challenges we currently face. So it is our role to inform and educate through the Manifesto document.
Fortunately we could make a huge difference with even a modest increase to resourcing. Through the manifesto we've suggested five areas [PDF] that could deliver early wins and for which there are already a number of initiatives in play that could very easily be leveraged and scaled up. Building upon our existing innovation infrastructure is the smartest way to grow economic activity and employment.
For example, there are several excellent educational programmes operating within New Zealand that aim to build entrepreneurial and innovative capability, specialising in various demographics from primary school through to postgraduate research level. All of these programmes bring value to the ecosystem and help to create a pipeline of talent. But there is little in the way of coordination between these initiatives. This is a lost opportunity at a time when there has never been a greater need for high value, new venture innovation across society.
One approach would be to provide an overlay to better align our efforts in educating, encouraging and empowering entrepreneurs from an early age. Furthermore, creating an "innovation nation" is the key to solving the most intractable environmental problems that confront us, whilst also generating positive economic and environmental outcomes across society. New Zealand has a unique window of opportunity to show global leadership in this space right now, in order to attract the capital and talent we will need to rebuild better.
Paul Spence is a commentator and serial entrepreneur, a recently exited co-founder of a New Zealand based technology venture, a co-founder and director of Creative Forest and principal at GeniusNet Research. You can follow Paul on Twitter @GeniusNet or sign up for a free weekly digest of startup, tech and innovation related events curated by him through New Zealand Startup Digest. Paul is a co-author of the Entrepreneurship Manifesto 2020.