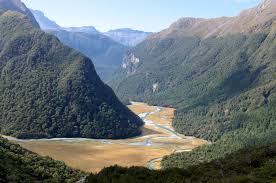 As you may be aware, Minister of Conservation Nick Smith this week delivered his decision on whether or not to grant a concession to Milford Dart Limited for construction of an eleven kilometre, one-way bus tunnel between the Dart Valley and Milford Sound. One has to sympathise with the Minister who frequently has to make such rulings and whose decisions are not always popular.
However, it beggars belief how such a ridiculous proposition even got as far as the Minister's desk in the first place. Proponents of the tunnel who energetically cite how it will reduce travel times to and from Milford Sound seem to have missed the point. Tourists come to enjoy New Zealand's scenery, not to sit in a dark tunnel. Others have championed how the plan will bring new economic life to the region – when in fact it is likely to kill small towns like Te Anau that rely on passing traffic. Milford Sound itself is physically constrained and simply cannot grow any more, so that argument also falls flat.
Smith used some sound reasoning as to why he declined the project. Uppermost in his mind seems to have been concerns about exactly where millions of tonnes of earth would be deposited after it was dug from the tunnel and that it was not consistent with the park management plan. Even ignoring the fact that the economics of the venture don't actually stack up; there are much more important, but less tangible, reasons for filing the plan in the waste paper bin.
Despoiling our greatest national park (and world heritage area) for highly questionable commercial gain, would simply be a crime against all New Zealanders. We should keep our special places intact. Good call Mr Smith and deep shame on Tipene O'Regan and his fellow directors of Milford Dart who, given their connections, you'd think might have had more respect for the intrinsic value of a relatively untouched region.
Paul Spence is a commentator, technology entrepreneur and is a co-founder of iwantmyname, a New Zealand based global Internet venture. You can follow him on Twitter @GeniusNet