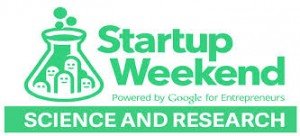 Compared to many OECD nations, New Zealand underperforms at building great global companies based on smart commercialisation of knowledge. That's a shame, because we have no shortage of intellectual talent and we also enjoy a fantastic natural resource base.
So we are putting on a
very special Startup Weekend
event here in Wellington focusing on
science and research
. It's all part of our efforts to strengthen the entrepreneurial ecosystem in New Zealand and get more people in science and technology thinking about entrepreneurship as a career. Encouraging a culture of entrepreneurialism and building bridges between the research and business communities are important themes in driving
value-added economic growth
that we need to underpin our future.
It is a fantastic opportunity for young researchers who are interested in research commercialisation to spend a weekend with some very cool mentors as well as investors and people from across the business community. The McDiarmid Institute and Kiwinet are actively supporting this event. It's mostly about teaching a lean methodology for developing and testing business ideas, as well as networking with potential future collaborators.
Participants can bring a project of their own that they wish to explore or join another team simply for the learning opportunity. We are looking for researchers from any field plus engineers/developers, designers and business gurus to get involved as well. Who knows where it might lead?
This will be a smaller event than usual and spaces are limited. Sign up for Startup Weekend Science & Research today!
Paul Spence is a commentator, technology entrepreneur, a co-founder of iwantmyname (a New Zealand based global Internet venture) and an organiser and mentor with Startup Weekends in New Zealand. You can follow him on Twitter @GeniusNet