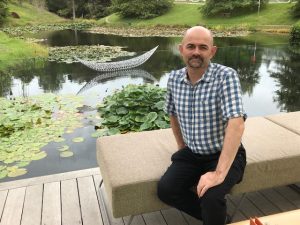 Having spent a decade helping to build a technology business as well as giving back to the community along the way, I thought that I was making a valuable contribution to growing a more knowledge intensive economy here in New Zealand. I was able to measurably improve my own lifestyle and assumed that we were all heading in the right direction together. But with regional economic development becoming more politicised than ever and national indicators of labour productivity and GDP actually decreasing over the last two years – I now realise that we have a lot more hard thinking ahead of us as a nation if we are to deliver on the clean and competitive, high value economy that we all hoped for.
Lately, in an effort to determine how I can best contribute intellectually to this creative endeavour, I've been revisiting some of the traditional macro-economic theory around "competitiveness". As well, I've been exploring some new approaches that are emerging in the development arena, with the goal of bringing together my business experience and the latest in economic development thought leadership. I'm a firm believer that policy and actions should be driven by a combination of practical skills and academic theory.
The World Economic Forum defines competitiveness as "the set of institutions, policies and factors that determine the level of productivity of a country". Productivity is simply the ratio of outputs versus inputs in an economy. Traditionally a more productive economy generates more wealth and (theoretically) more income per capita and better standards of living for its citizens. In practice, it is more problematic and here's why.
Firstly because this formula assumes wealth is the only measure of good. Happily, some governments and corporations are now beginning to rethink GDP and put more weight on less tangible measures of progress such as well-being for example. Secondly, social factors can skew apparent productivity. For example wealthy nations with large populations of guest workers who have a much lower standard of living compared to local residents. Also the rise of pan-national states (such as EU) and the drift away from globalism towards regional trade agreements, force us to revisit how we look at competitiveness from a global perspective.
Competitiveness is as relevant as ever, but it is being framed within a somewhat different context these days. Even Prof. Michael Porter, who famously drove much of the original thinking around competitiveness, agrees that the landscape has shifted. Today businesses (and national economies) are highly networked, social and collaborative – meaning that the forces of competition have changed. Furthermore Porter has evolved his own thinking and now dedicates much of his time to promoting social progress as a measuring stick independent of GDP.
The challenge for New Zealand remains the same. How do we drive our economy up the value chain and away from extractive and polluting commodity based export industries? After ten years on the job, I learned that building and scaling a knowledge based business is very hard work. Even for those who do succeed, the returns may not outweigh spending the same time and capital investing in property, dairy farming or planting pine trees. That's a huge competitiveness problem that we need to solve if we are to maintain our enviable lifestyle into the future.
Paul Spence is a commentator and serial entrepreneur, a co-founder of New Zealand based technology ventures iwantmyname and Creative Forest and a mentor with Startup Weekends and Lightning Lab. You can follow Paul on Twitter @GeniusNet or sign up for a free weekly digest of startup, tech and innovation related events curated by him through New Zealand Startup Digest.
Photo credit: Renea Mackie – Creative Forest