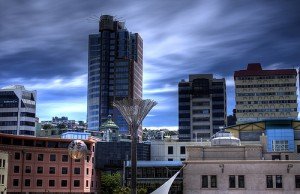 Let me begin by stating that I like Wellington Mayor Justin Lester as a person. He's way more approachable than the previous two incumbents and I respect that he is doing his best to navigate the council through a very difficult patch in the city's long history. He's been a business owner in the Capital and will be acutely aware of the many challenges confronting the inner city right now. So when he announced his policy platform for re-election, I must admit to being a little disappointed.
Eliminating homelessness and assisting refugees are very worthy goals and not to be discounted of course. Good luck with all that. But Wellington has even more pressing problems. Because it is now finally beginning to dawn on city dwellers that there are very widespread structural problems which have gone unaddressed for many years. Removing vagrants from the street may become a moot point, if the central city declines into an unliveable wasteland.
Wellingtonians are political animals by nature and in recent years have been very effective at rallying support to challenge poorly planned developments around the city where there was often insufficient public consultation. Shelly Bay and the Queens Wharf hotel are classic examples, as was the Basin Flyover that was knocked for a six and the dog's breakfast that now passes for the Island Bay cycle lane. The highly questionable airport runway extension proposal has also been defeated (for now). These lengthy battles have been a huge distraction for councillors and previous Mayors, who should have been focused on much more pressing needs, as it turns out. Public advocacy is a good thing of course, but, for their part, opponents to infrastructure projects must also come to the table with fresh solutions to offer, not just blanket opposition. Developers and investors will soon stop calling. Some already have.
Now Civic Square is dying with the much loved library and both the Town Hall and council buildings buggered due to quake damage. This is a heavy loss. The Square was once the lively centre piece of the city. If the wooden footbridge leading to the square has to close, as has been suggested recently, it will be the final nail in the coffin as the central city is cut off from the waterfront. Dozens of at risk commercial buildings in the CBD are already untenanted, unfixable and possibly uninsurable and thousands of older homes around the CBD perimeter are in need of major refurbishment – or demolition. And let's not even mention the failing transport networks with buses and trains that don't work, congested arterial roads and the hellish nightmare of simply trying to find a car park in the CBD.
This is Christchurch all over again, but in slow motion. It's time to accept that the underlying framework of the city is in real crisis now. A crisis that has crept up on the current council, but which has been in the making for decades. A complete re-visioning is needed to future proof the city, also taking into account threats related to climate change. A Christchurch style solution might be the inevitable conclusion, but more likely spread over a longer period of time. Retain and strengthen a few key edifices, bulldoze and start over with the remainder?  Unfortunately I fear that it will take a much broader political will and a lot more time than one election cycle, to get things back on track.
Paul Spence is a commentator and serial entrepreneur, a co-founder of New Zealand based technology ventures iwantmyname and Creative Forest and a mentor with Startup Weekends and Lightning Lab. You can follow Paul on Twitter @GeniusNet or sign up for a free weekly digest of startup, tech and innovation related events curated by him through New Zealand Startup Digest.