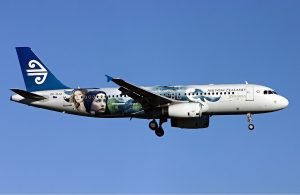 Air New Zealand's predecessor Tasman Empire Airways (TEAL) was formed in 1940 to join the dots across the Pacific Islands and Tasman Sea in order to keep regional lines of communication and supply open as war unfolded in the Northern Hemisphere. The historical "teal" coloured tail markings and livery reflected our close connection to the land and sea. Over the years, the spirits of many homesick Kiwis were lifted, whenever the teal logo was spotted at foreign ports. However in a marketing misstep of gigantic proportions during 2012, our national carrier adopted black as the livery foundation. It is time to review that decision.
The airline's promotion of black as a theme was trumpeted by the CEO at the time as representing, "the colour of New Zealand". In fact it was all about an expensive multi-year contract signed with the New Zealand Rugby Football Union (NZRFU) that would use All Black team members to promote the airline brand. Great for the NZRFU and the "old boys" network that brokered the deal, but a disaster for the airline's image. It was about the same time that black flag waving ISIS was laying a path of destruction across the Middle East. Black seemed like the last colour a safety conscious, globetrotting airline should choose to promote itself.
Black has indeed been traditionally associated with sports people from our country for a very long time, from long distance runners to netballers and hockey players. Imbued with the sweat of gold medalist athlete Peter Snell, a black singlet was even acquired by our national museum for the incredible sum of $122,000. Such was the perceived significance of the garment. But that is not sufficient reason to turn an airline fleet into a bunch of licorice all sorts. For the majority of the global population, who live in the real world outside of our little islands, black is associated almost universally with death, disease and rabid fundamentalism. How could Air New Zealand's marketing team have got this so wrong?
Black is NOT "the colour of New Zealand", a nation that is surrounded by water and rich with subtropical rain forests and rolling green agricultural landscapes. To invoke black as our guiding light is both ironic and arrogant in the extreme because, despite what marketers insist, New Zealand is not a nation of sports people. Let's explode some of the mythology around our "national sport" of rugby for example. For starters, only about 3% of the population play the game – and that includes thousands of children at school who are forced to do so. Even if you include Sky Sports viewers, it is estimated only about 15% of the population actually watch rugby matches regularly in New Zealand.
It seems like a very weak justification for building an entire brand story around black, via the promotion of a rugby team and a sports brand that increasingly few of us pay attention to. Furthermore, as our culture becomes more diverse, Kiwi parents are turning their kids away from rugby in droves. The sport is increasingly seen as brutal, thuggish and mindless. A hangover from a past that has long since evaporated. Quite the antithesis of the innovative, creative brand story that we actually need to portray to the world.
It would have actually made a lot more sense for the airline to use black in their branding back in 1940 when the entire nation would at times be glued to the "wireless" listening to sports match commentary. But the world has moved on since then. In 2020 there are so many more interesting things about New Zealand that we should be celebrating. Bring back the TEAL tail and show the world that we are not a boring monochromatic nation.
Photo credit: Ian Creek through Wikimedia Commons.
Paul Spence is a commentator and serial entrepreneur, a recently exited co-founder of New Zealand based technology venture iwantmyname,  a co-founder and director of Creative Forest and principal at GeniusNet Research. You can follow Paul on Twitter @GeniusNet or sign up for a free weekly digest of startup, tech and innovation related events curated by him through New Zealand Startup Digest.