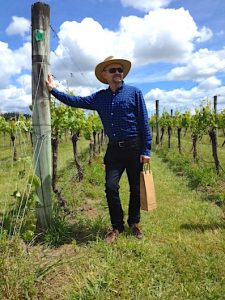 I was at a community event recently chatting to a friend and he commented, "you've had quite a busy year". He was not wrong. But it was the first time it really struck me. Here's a short recap.
We had a solid year at iwantmyname and have grown the iwantmyname team to fourteen, about half of whom are based outside of New Zealand, supporting the 93% of our customers that come to us from offshore. Mid year we convened everyone for a week in Vancouver to co-design a "social contract" for the company, plan some projects and eat all the salmon burgers and maple syrup pancakes we could lay our hands on. Hard to believe that next year iwantmyname will be ten years young. I'm sure we will be planning something special for the community that has supported us. Watch this space! In the meantime we've continued backing tech meetups and Startup Weekends around New Zealand (and abroad).
In 2017 I was part of the team that took Polanyio through the Lightning Lab Electric accelerator. There were tears, there was laughter plus loads of hard work forging a position in a very tough and intransigent sector.  We are currently working with an industry partner to continue development of a unified procurement platform that engages energy brokers, their customers and energy retailers. Amidst all the startup hype around consumer apps, we elected to focus on a non-sexy B2B project that will actually drive some long term efficiencies in the evolving energy market landscape. As a result of this experience, I remain open minded about what incubators and accelerators bring to the economy, but I continue to maintain that the government does have a role in promoting innovation and entrepreneurship.
There was also some big changes in my domestic life this year. The lovely Renea Mackie graciously accepted my marriage proposal and we decided to make the move to set up a semi-rural family home in delightful Wairarapa. After more than three decades stoically enduring Wellington weather, I'm certainly loving the Mediterranean climate as well as reveling in the joy of having world class vineyards only a few minutes down the road. We've been fortunate to be able to work from home mostly, but we venture across the Rimutakas once or twice a week for meetings and to keep in touch with family. Best of both worlds.
Renea and I have also been busy establishing Creative Forest together with the aim of continuing and extending the wonderful work that Renea became so well known for in Canterbury. Creative Forest offers an innovation framework for young people to explore entrepreneurship with the support of mentors and technical advisors from the community. The company is part of a growing portfolio of interests for GeniusNet and has begun to attract attention from educators, government and iwi representatives.
There were some disappointments in 2017 as well and it also felt like we reached peak political correctness in terms of the vocal minority who find it increasingly necessary to impugn others who hold different views than themselves. In my opinion this is largely in response to the ugliness and idiocy of the current American administration which has unfortunately permeated our collective consciousness during the last twelve months. The consequent steady erosion of the legitimacy of Western democratic social values is very concerning. Notwithstanding this, I'm choosing to focus on the positive aspects of 2017. As my Norwegian ancestors would say – Farvel 2017! Happy 2018 everyone.
Paul Spence is a commentator and serial entrepreneur, a co-founder of Wellington, New Zealand based technology ventures iwantmyname and Polanyio and a founding mentor with Startup Weekends and Lightning Lab. You can follow Paul on Twitter @GeniusNet or sign up for a free weekly digest of startup, tech and innovation related events curated by him through New Zealand Startup Digest.